My guest blogger this month is Marija Trifunovic from Arizona Moving Professionals.
A neat and organized kitchen space and pantry reflect how well you manage your meals and your household in general. People with large families know that keeping everything neat is often challenging when you also need to stock up on food. Luckily, there's a way to reorganize your pantry and make sure it looks good and is practical and easy to manage. Let's go through some super helpful pantry organization ideas that will help you make it neat as a pin – and keep it that way!
Create a unified look with plastic stackable containers
With all the foods in containers of different shapes and sizes, it's easy to lose track of what you've got in your pantry. That's why packing all of the foods in a one-style container will make it super organized and easy to use. Find see-through, stackable containers that you can use for different types of food such as rice, grains, flour, pasta, cereals, and more. If they're made of see-through plastic, it will be easier to see what's inside and how much food is left.
Labels
You can make labels for all the contents in your pantry for easier organization. You can even buy blank stickers and write what's inside each jar or container. Labels make it easier to manage the pantry, and the space will look even better if you use the same style everywhere.
Pull-out cabinets for reaching items in the back
Oil bottles, spices, and similar items often get stuck in a cabinet, so you use only the bottles or jars in front, forgetting about the ones in the back. Well, how about a cabinet you can pull out like a drawer and see all the items in it? You can custom-make it to fit your pantry or turn one regular cabinet into a pull-out one.
Use dividers
Use dividers to help you organize your drawers and cabinets whenever you can. Drawer dividers and organizers are probably the best way to keep the mess out, as you need to put the items back as they were. They'll keep your drawers and cabinets as tidy as possible.
Create a spice rack
One of the best ways to organize and use up all the spices is to have them on display and see what you've got. Firstly, pour them into all the same jars and label each jar clearly. Next, use a simple book or picture shelf for all the jars. You can hang it on the back of the pantry door or a wall. This is one of the pantry organization ideas that will help with smart storage management, too. It's perfect for small kitchens and pantries where you want to use every inch of space.
Go vertical
You might feel like you've got enough space in your pantry, but creating more space options will make every space look better. Use up the vertical space in your pantry by adding some shelves on top of the cabinets. Also, you can place a couple of baskets on the highest shelves and use them for things you don't use daily. These are often seasonal items, holiday food tools, supplies, etc. Finally, use baskets to fill any open shelves that look messy. You can hide things in baskets to make the shelves look good and have everything tidy and in its place.
Bonus tip: using the vertical space in your pantry might result in shelves too high to reach. There's a simple solution for this – a library ladder. Use to reach items that are placed high and have a spacious and organized pantry simultaneously.
Easy access to items you use daily
When organizing a pantry, the most crucial factor is how often you use something to cook. The priority factor will help you manage your foods to make the ones you need daily easily accessible. Sugar, flour, pasta – ensure these are placed in secure containers suitable for everyday use and put in a place where you can easily reach them.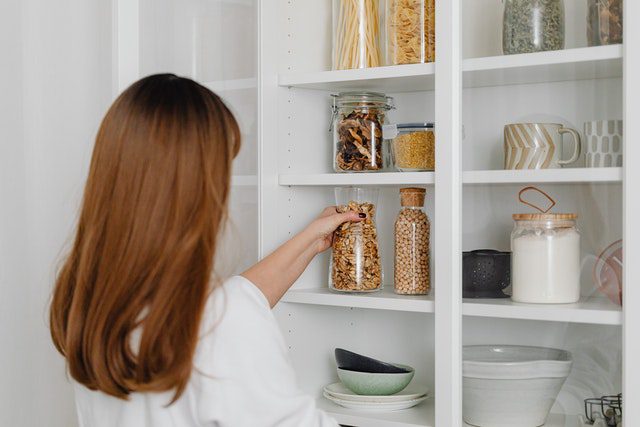 Create a coffee and tea station
If you're into morning or evening rituals of drinking tea and coffee, you simply need a station for making your favourite drink. Get a box or organizers for all the tea bags, coffee capsules, and other items you need to make your perfect morning cup of joy. Also, keep it together with your favourite cups and everything else you need to use or maintain your coffee machine. It will make this task much faster and easier once you have everything in one place.
Get a pegboard
This is one of the ideas for pantry organization you can use in other rooms in the house, such as your office, garage, or crafts room. Pegboards are a fantastic tool for organizing smaller items you need to prepare food – hang knives, measuring spoons, cutting boards, etc. You'll use vertical space and clear-out cabinets and drawers.
First things first…
It's important to know exactly how much space you have, so do a serious decluttering session first. Take everything out and remove all items that passed expiration dates, got spoiled, etc. Also, taking everything out for a moment will help you see how much space you have in your pantry. It will also make it easier to visualize the area and see which of the pantry organization ideas will work the best. Decluttering also works wonders for the entire home, so practice it regularly. However, if there are items, you can't have at your home but still want to keep, decluttering with storage units is a great solution for this. Use a storage unit for seasonal items, hobby supplies, sports equipment you currently don't use, old furniture that needs a makeover, etc.
These pantry organization ideas prove one thing – having a tidy pantry is easy. With just a few modifications and smart usage of space, you can truly enjoy preparing meals for your family.
If you need help implementing these ideas book a virtual organizing session with me.
Julie Stobbe is a Trained Professional Organizer and Lifestyle Organizing Coach who brings happiness to homes and organization to offices, in person and virtually. She has been working with clients since 2006 to provide customized organizing solutions to suit their individual needs and situation. She uses her love of physical activity to reduce clutter, in your home and office. She guides and supports you to manage your time. If you're in a difficult transition Julie can coach you to break-free of emotional clutter constraining you from living life on your terms. Online courses are available to help instruct, coach and support your organizing projects. Get started by downloading Tips for Reorganizing 9 Rooms.
Click here to learn more about her online course Create an Organized Home.
Twitter – Facebook – Facebook group Organizing Mind and Space